Soldiers
A Family Tradition of Military Service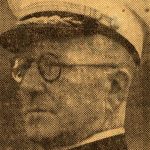 Major General James Carson Breckinridge, USMC. 1877-1942. Shown here in 1939, Maj. Gen. Breckinridge was the son of Clifton R. Breckinridge and grandson of John Cabell Breckinridge. Photo and biographical information from The New York Times, 4 March 1942.
From colonial times to the present, Cabells have helped to fight their country's battles, often in very prominent roles. The first Cabell in America inaugurated this tradition with his own service in the French and Indian War (1754-1763), and each of his four sons followed his example during the American Revolution. As the family multiplied, so did the number of its young men who volunteered for military service. An astounding 129 Cabells fought for the Confederate Army! Scores of Cabells served in each World War, with many gaining high distinction. Charles Pearre Cabell, for example, rose to General in the newly created Air Force for his leadership during World War II. Wirt Robinson (great-great-grandson of Co. John Cabell) taught at West Point from 1899-1903, and again from 1906-1928, helping to prepare generations of soldiers. Members of the family are still active in every branch of the service; Ben Ransom Cabell served in Operation Desert Storm as Lt. Col. in a mechanized infantry division, and John B. Cabell has won medals for his distinguished service in the US Navy.
The Civil War
The Generals
Benjamin W. S. Cabell, US Army
John Cabell Breckinridge, CS Army
William L. Cabell, CS Army
Joseph Cabell Breckinridge, US Army
James Carson Breckinridge, USMC
Randolph McGuire Cabell, US Army
Charles Pearre Cabell, USAF
Charles Pearre Cabell, Jr., USAF
Joseph Cabell Breckinridge, Jr.
The son of Joseph Cabell Breckinridge and–possibly–the first casualty of the Spanish-American War.
World War I
World War II