Artists
and Authors From the Cabell Family
Cabells have been active as both the patrons and creators of art. While few obtained renown for their creative powers, James Branch Cabell being the most notable exception, many sponsored or studied the plastic or literary arts.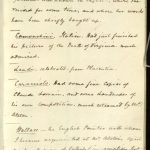 While traveling abroad in Europe, from November 1802-May 1806, Joseph Carrington Cabell studied painting, literature, and architecture. A note at left, from his journal, records the "Living Painters of Fame at Rome," whose acquaintance that Cabell made on his trip, including Angelica Coffman. On the same journey, Cabell hiked to the top of Mount Vesuvius with Washington Irving, who accompanied him on part of his trip. Cabell contributed to the development American art upon his return by his sponsorship of the University of Virginia. Cabell (along with William H. Cabell, Nicholas Cabell, and dozens other kinsmen) also supported American painters by commissioning portraits. As important political figures, men like Cabell relied upon portraiture in the days before photography to disseminate their image to their constituents.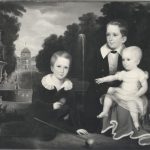 Some Cabells or Cabell relatives, including William C. Rives, commissioned paintings for purposes more purely social. In the picture at right, painted by George Cooke c. 1831, Rives' three eldest children appear at their Albemarle County home, Castle Hill. The painting is currently on display in the University of Virginia's Bayly Art Museum.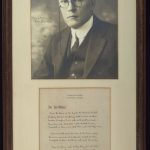 Though numerous Cabells, including Nathaniel Francis Cabell, Judith Walker Rives, and many others, wrote verse or fiction, none achieved international recognition of their work until James Branch Cabell. In addition to the eighteen-volume The Biography of the Life of Manuel, originally composed as twenty separate works but consolidated between 1927-1930, Cabell composed poetry, wrote nonfiction, and published short stories in magazines. At left is a portrait of Cabell found in the University of Virginia's Special Collections library with a handwritten poem, "The Toy-Maker."
Cabell sat atop the literary world in the 1920s, when he successfully fought off obscenity charges for Jurgen, one of the works in the Manuel cycle, and completed the Biography. His fantastic imagination and cunning word play thrilled audiences, but appealed to an ever shrinking number. In 1967, enthusiasts began publishing Kalki, a journal devoted to Cabell and his works. Interest and critical acclaim has subsided considerably, though in 1998 Stephen Wetta of New York University completed a dissertation entitled "Artful Contamination: Genre and the novel in the works of James Branch Cabell, 1919-1927."
Additional Sources Consulted:
Diary of Joseph Carrington Cabell's Travels in Europe (MSS 2453)
Kalki, Studies in James Branch Cabell