Margaret Cabell Self (1902-1996)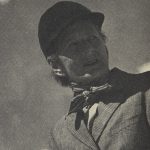 Margaret Logan Cabell was born in Cincinnati, Ohio but spent her childhood years at Warminster, in the heart of Cabell country, Virginia. She learned to ride even before she could walk and became an adept rider before leaving in her teenage years to attend school in New York City. She attended the Women's School of Applied Design (1917-1919) and the Parson School of Design (1921). While in the city, she met Sydney Baldwin Self, and the two married in 1921. They moved to New Canaan, Connecticut, where Self was able to resume her riding.
Pinched by the Great Depression, the Selfs feared that that they would have to sell their horses in the early 1930s. This threat spurred Margaret Self to begin to work professionally as a riding instructor and, eventually, to begin the publication of a long series of both fiction and non-fiction books about horses. She published upwards of forty volumes, beginning with the fictional Red Clay Country (1936). Her 1946 reference guide, The Horseman's Encyclopedia, won Self wide recognition and commercial success.
In 1939, Self founded the New Canaan Mounted Troop, "a non-profit, tax-exempt organization devoted to building leadership, responsibility, and confidence through sound horsemanship." She stayed actively involved in the troop for over twenty years. The group is still thriving today as an enduring testament to Mrs. Self's thoughtful service to her community.
The Selfs had four children, Sydney Baldwin, Jr., Shirley, Hartwell C., and Virginia Logan. After the departure of their youngest and facilitated by her success as an author, Self and her husband enjoyed their twilight years. Beginning in 1959, the pair wintered in Mexico, and they moved to an island off of the Rhode Island coast in 1962. Mr. Self passed away in 1980, and his wife survived him by sixteen years.
Additional Sources Consulted:
"Margaret Cabell Self," Contemporary Authors Online (2001).
New Canaan Mounted Troop Homepage (2002)