Joseph Cabell Breckinridge (1842-1920)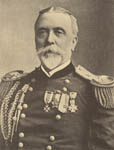 Born in Baltimore, Maryland, Breckinridge left his home state to study at Centre College (Kentucky) and at the University of Virginia. Unlike the vast majority of his kinsmen and his classmates at the University of Virginia, chose not to fight with the Confederate Army but with the Union. He enlisted in Kentucky, with Gen. William Nelson's men. He received promotion after promotion for his gallantry in battle and organizational capacity. Within a year, he was Nelson's acting adjutant-general and a major by the end of the war. Following Appomattox, Breckinridge continued his service in the United States Army. Again impressing his superiors with his high standards of excellence, he won a series of additional promotions. He became a Brigadier General and Inspector General of the Army in 1890.
Anecdotal evidence presents a picture of General Breckinridge as a meticulous, careful man, the kind well suited to his position in the armed services. A professed Calvinist, he always handled himself in a manner that he hoped would reflect well on his country and his church. On the streets of Denver, Colorado, a stranger once approached Breckinridge and asked, "What is the chief end of man?" Answering according to the Westminster Catechism, the general responded, "Man's chief end is to glorify God and enjoy Him forever." The stranger then offered his hand and said, "I knew by your look and carriage that you were an army officer and a Presbyterian!"
Breckinridge wed his wife, Louisa L. Dudley, in 1868. They had thirteen children together, several of whom followed Breckinridge into military service. One, Joseph Cabell Breckinridge, Jr., quite tragically was among the first casualties of the Spanish-American War.
Additional Source Consulted:
Ethelbert D. Warfield, Joseph Cabell Breckinridge, Jr. (1898)