James Branch Cabell (1879-1958)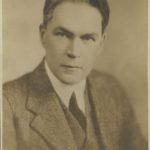 James Branch Cabell, a native of Richmond, Virginia, published over fifty books and myriad newspaper articles. The great-great-great-grandson of family patriarch William Cabell, his achievements in the field of literature complemented the victories of earlier generations of Cabells in war and public service. He wrote on topics from the fantastic to the genealogical and gained a reputation as one of the leading American authors of the early twentieth century. His most famous novel, Jurgen (1919), went through over twenty editions, was translated into languages as diverse as Yiddish, Danish, Japanese, and Czechoslovakian, and remains in print today.
Jurgen became the centerpiece of a great eighteen-volume set, entitled The Biography of the Life of Manuel. Cabell created in this extended series, completed in 1930, a mythical French province called "Poictesme" and inhabited it with heroic men and beautiful women. His sophisticated, ironic prose contributed to the success of these novels, as did the press generated by a sensational 1922 censorship trial in New York State. Finding symbolism in Jurgen that they believed to be pornographic, the New York State Society for the Prevention of Vice charged Cabell's publisher, Guy Holt, with violating state obscenity laws. America's most well-known men and women of letters, including H. L. Mencken and Sinclair Lewis, rallied to Cabell's defense, and the judge dismissed all charges.
Cabell dated his interest in genealogy to his 1913 marriage to Priscilla Bradley Shepherd. In his intimate autobiography, As I Remember It (1955), his tongue characteristically in cheek, Cabell explained that he "found it gratifying to discover with how many and how very upper classes [he] had intermarried." Years before his marriage, however, he had already published Branchiana and Branch of Abingdon, studies of his own ancestry. His wife's zealous interest in genealogy nonetheless appears to have spurred Cabell on. She led the Daughters of the American Revolution and other social organizations with which she was affiliated to restore deteriorating volumes of Virginia legal records, in order to open them to research. Cabell became as involved as his wife in these state history organizations, including the Sons of the American Revolution, the Virginia Society for Colonial Wars, and the Virginia War History Commission.
After the death of his first wife in 1949, Cabell remarried to Margaret Waller Freeman. Alternating his time between Florida and Virginia, Cabell wrote until 1958, when he died of a cerebral hemorrhage at home in Richmond.
Additional Sources Consulted:
James Branch Cabell, As I Remember It (1955)
Carl van Doren, James Branch Cabell (1925)
James N. Hall, James Branch Cabell: A Complete Bibliography (1974)
Virginia Commonwealth Library's Digital James Branch Cabell Exhibit (2002)