Legal Work
Legal Affairs
R. T. W. "Judge" Duke, Jr. followed his father into the law and served on both sides of the bar. He began his study of law during his last two years at the University of Virginia (1872-1874) and completed his training in his father's office, which he joined in 1875. His father had practiced alone from 1850-1858, in which year he added James D. Jones as a partner and built new law offices. Jones had retired and been replaced by Louis G. Hanckel and Stephen V. Southall by the early 1870s, before Tom's arrival. When Tom's older brother, William, joined his father and sibling c. 1883, R. T. W. Duke, Sr. changed the firm's name to Duke & Duke.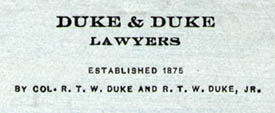 Soon thereafter, Tom Duke was elected to the Corporation Court (now the Circuit Court), where he sat from 1888-1901 and earned his enduring epithet, "Judge Duke." The Judge maintained his connection with the family firm and resumed work full time upon his retirement from the Court in 1901. Civic duties continued to impede upon his time in the office, and he edited the Virginia Law Journal from 1907 to 1910. He further divided his time from 1916-1920, when he served as Commonwealth's Attorney.
Eskridge Duke, Judge Duke's son, followed his father into the firm–rechristened Duke, Duke, and Gentry around 1917. The next several decades brought great success to the firm, which, staffed by graduates from the University of Virginia's law school, handled a variety of loan, bond, and insurance operations, in addition to civil and criminal cases and property management issues.