William Cabell (1699-1774)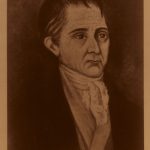 An émigré from Warminster, England, William Cabell was a surveyor, magistrate, farmer, trader, vestryman, churchwarden, and pioneer in colonial Virginia. He applied his numerous talents to the consolidation of British settlement in the interior and founded a dynasty of gifted individuals who would continue to offer their services to the Commonwealth for generations.
Born in March 1699, Cabell was the first surviving son of Nicholas Cabell, a wool-stapler and a dissenter from the established Anglican Church, and Rachel Hooper Cabell. Surviving documentation is silent on the exact timing and motivation for Cabell's emigration to the New World; family tradition holds that he first saw the shores of Virginia while a surgeon aboard a British man-of-war in the early 1720s and returned promptly after settling his accounts at home. Especially since no contemporary evidence confirms Cabell's formal training as a physician, this account now appears unlikely. At any rate, he arrived in Virginia by at least 1726, for in that year he was appointed under-sheriff of the then sprawling Henrico County. Very soon after his arrival, and certainly no later than 1726, he also married Elizabeth Burks, his wife of thirty years.
William and Elizabeth Cabell initially settled near Dover on land provided by her father but soon joined in the mad rush to the interior. Named one of the first justices of Goochland County when it was carved from Henrico in 1728 and coroner in 1729, Cabell added to his roles that of surveyor in 1730. He definitely performed surveying work, but it is unclear if he held an official position or simply assisted his cousin, William Mayo, who was then surveyor for the County. Alexander Brown records that Cabell was "the first Englishman to enter the then wild region west of the mouth of Rockfish River for the purpose of locating lands for actual settlement." Before he could secure his patent to these lands and relocate his family thence–which had by then grown to include three children, with a fourth on the way–the deaths of his father, aunt, and uncle prompted Cabell to return to England. In August 1735, he left his affairs in the hands of his wife, cousin William Mayo, and friend George Carrington and made the long trip to Warminster.
Upon his return to Virginia in 1741, Cabell discovered that his wife had increased his landholdings from 1200 to almost 8,000 acres. He then moved his family up the James River to the biggest property, a 4,800-acre patent in what is now Nelson County. He named the estate "Warminster" for the English town of his youth. The Cabells made Warminster home, and developed it as did many of their fellow Virginians: by acquiring enslaved African Americans to perform much of the estate's work. Hence William Cabell became the first of many Cabells to benefit from a way of life based on the exploitation of enslaved persons. Cabell alsodemonstrated his commitment to his chosen home by giving his time and talents for the establishment of the institutions of local government. He petitioned the Burgesses in 1744 to form a new county and a new parish to serve the settlers in the westernmost portion of the colony. The Assembly responded by forming a new parish, St. Anne's, and a new county, Albemarle.
Cabell was one of the first justices of the peace for Albemarle, a captain in the militia, a coroner, and its official surveyor (through 1754). In 1748, he began operating his own ferry across the James River and obtained a license for a tavern. His youth in England probably included some sort of medical training, for Cabell also built a successful practice as a doctor and surgeon. From at least as early as 1752, he purchased and made medicines, sold wooden limbs, and operated a hospital near his home. The size of Cabell's medical library, including some fifty books purchased after his arrival in Virginia, indicates the extent of his medical knowledge. His medical skills would have been especially helpful for treating enslaved persons, who constituted a substantial percentage of the local population and the personal wealth of their white enslavers. Upon the formation of another county, Amherst, in 1761, Cabell was named the Presiding Magistrate and the County Lieutenant, or chief military officer.
In 1756, the woman who had protected Cabell's interests during his sojourn in England and raised five of his children to adulthood passed away. Cabell remarried in 1762 to a woman named Margaret Meredith, the widow of Samuel Meredith from Hanover County. He survived his second wife as well; she died in 1768. William Cabell himself died in 1774, at the age of seventy-five. Having already deeded significant portions of his land to his older children upon their respective marriages and in a flurry of legal activity in 1763, he left most of his estate to his youngest son, Nicholas Cabell.
Additional Sources Consulted:
R. W. Cabell, "Cabells Sightings" (1996)
Sarah Hughes, Surveyors and Statesmen (1979)
Anna Marie Mitchell, "Dr. William Cabell" (1939)
Francis M. Walker, The Early Episcopal Church in the Amherst-Nelson Area (1964)
[*Of the image of William Cabell, James Branch Cabell wrote: "the origin of the portrait as to which you inquire is deplorably hazy. It came to me in the form of a faded photograph being from the collection of the late Peyton Carrington, and is, so far as I know, the only picture which at least claims to be a portrait of Dr. William Cabell. The oil painting I had made from the photograph.***I believe he did sit for it. The man is obviously a Cabell.***The resemblance of this picture to the Doctor's youngest son, Nicholas, is so marked that the portraits might well be of the same man."