Joseph Carrington Cabell (1778-1856)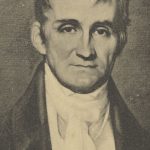 Unlike his more well-known kinsmen, William Cabell Rives and John Cabell Breckinridge, who exercised their political gifts on a national stage, Joseph Carrington Cabell devoted his energies in service to his native state of Virginia. An early adherent to Jefferson's party and well-traveled for his day–having completed a tour of Europe from November 1802-May 1806–Cabell turned down opportunities to serve in the administrations of Presidents Madison and Monroe. He declined even to run for a congressional seat, preferring Richmond to Washington. However, he did serve for decades in the Virginia General Assembly, where he advanced his two great interests, the University of Virginia and the James River & Kanawha Canal.
Thomas Jefferson recruited Cabell's aid in the earliest stages of planning for the University of Virginia. Jefferson first raised the issue with his friend in a letter of 5 January 1815, and Cabell thereafter served as the University's most faithful advocate in the state legislature. He was the prime mover behind the incorporation of Central College in 1817 and the selection of Central College as the official state university in 1819. In that year, Cabell joined Jefferson, his best friend John Hartwell Cocke, and several other of the Commonwealth's elite landholders on the University's first Board of Visitors. When Cabell's energy faded and he considered resigning from the state legislature, Jefferson begged his friend not to abandon his post as the institution's most capable friend in Richmond. "Nature will not give you a second life wherein to atone for the omissions of this. Pray then, dear and very dear sir, do not think of deserting us," he wrote in January 1821. Cabell relented and served the University of Virginia longer than any of its original founders, as a Board member until his death in 1856 and as a member of the General Assembly until 1835.
Cabell's commitment to the University of Virginia was, like Jefferson's, inextricably entwined with his commitment to the institution of slavery. Both believed, in the words of Maurie D. McInnis, that "it was important to educate Virginians, and other southerners, in an institution that understood and ultimately supported slavery." The myriad decisions made by Cabell and others regarding the University's buildings and operations were informed by their long experience as people who claimed African Americans as property. The Cabell Family Papers contain an abundance of information concerning the lives of enslaved persons owned by Joseph C. Cabell and other Cabell family members, though much of this information has yet to be extracted and given proper study. An outstanding exception is Alan Taylor's Pulitzer Prize-winning study of Cabell's dealings with the enslaved population at Corotoman, an estate he jointly owned and managed from 1807 on, supplemented by Patrick J. Heffernan's Corotoman Slave Histories database, both based on research in the Cabell Family Papers.
Cabell died at his Nelson County estate, "Edgewood," in February of 1856, survived by his wife of forty-nine years, Mary Walker Carter Cabell. Cabell left no children to mourn his passing, but the Faculty and Visitors of the University each passed resolutions honoring him. His grateful successors on the Board further commemorated his sacrifices on their behalf by naming the University's new academic center Cabell Hall in 1895.
Additional Sources Consulted:
[Nathaniel Cabell], Early history of the University of Virginia (1856)
Langhorne Gibson, Cabell's Canal: The Story of the James River and Kanawha (2000)
"The Late Joseph C. Cabell," Southern Literary Messenger (1856)
John S. Patton, Jefferson, Cabell, and the University of Virginia (1906)
Carol M. Tanner, "Joseph C. Cabell, 1778-1856" (1948)
Educated in Tyranny: Slavery at Thomas Jefferson's University (2019)
Alan Taylor, The Internal Enemy (2013)
Alan Taylor, Thomas Jefferson's Education (2019)