William Cabell Rives (1793-1868)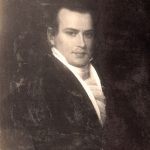 The political genius of the Cabell family concentrated in the fourth generation of Cabells in America on William Cabell Rives, the great-grandson of patriarch William Cabell. Born to Robert and Margaret Cabell Rives at "Union Hill," the Amherst County home of his grandfather, Col. William Cabell, on 4 May 1793, he briefly attended the College of William and Mary from 1808-1809 before earning expulsion for an affair of honor (which ruffled feathers but did not escalate to a duel). Fortunately for him, Rives' return to central Virginia coincided with the return of Thomas Jefferson from Washington, D.C., and he became the statesman's protégé upon the recommendation of Rt. Rev. James Madison, William and Mary's president.
Rives visited "the Sage of Monticello" weekly for almost two years and received training in both law and politics. He returned to Williamsburg for more schooling in 1811 but left in the Summer of 1812 amid the excitement of war. Obeying his father's wishes not to enlist in the colonial militia, he moved to Richmond and acquired his license to practice law in May 1814. Following the burning of the nation's capital in August, however, Rives could no longer resist the call to arms and obtained a position as aide to General John Hartwell Cocke to defend his state against possible invasion.
Though Rives did not see action during the war, the acquaintance of Cocke, combined with his connection to Jefferson and his introduction to state government during his residence in Richmond, bolstered his interest in politics. On July 4, 1816, he gave a speech at the Nelson County courthouse on the injustice of the under-representation of Virginia's western counties in the General Assembly. His efforts earned him election to a constitutional convention held in Staunton, and to his election 1817-1820 as Nelson County's delegate to the General Assembly. Following his 1819 marriage to Judith Page Walker and move to her Albemarle County home, "Castle Hill," he won election to that body from Albemarle (in 1822). His reputation rising and family growing, Rives won election four times to the United States Congress and served from March 1823 until his resignation in 1829 to accept an appointment from President Andrew Jackson as Minister to France. Following his return in 1832, Rives served all or part of three terms in the United States Senate before accepting reappointment as Minister to France under Presidents Zachary Taylor and Millard Fillmore, from 1849-1853. During his political career, Rives followed a principled journey from the Democratic Party to the Whigs. He supported Andrew Jackson's removal of funds from the Bank of the United States in 1834 so firmly that he resigned his place in the Senate rather than follow the Virginia General Assembly's order to combat the decision. Primarily because of his distaste for Democratic leaders Martin Van Buren and James K. Polk–and because of his agreement with Whig foreign policy decisions–he was ready to declare for Whig Presidential candidate Henry Clay in 1844.
Rives excelled in more than politics, however. He was also a careful scholar, and his three volume History of the Life and Times of James Madison (1859-1868) remains an indispensable source on the fourth President. His Letters and Other Writings of James Madison (4 vols., 1865) also endures as a valuable resource for scholars. Countless other publications, including a Discourse … on the Ethics of Christianity (1855) and a Discourse on the Character and Services of John Hampden (1855) bear further testimony to his literary and scholastic gifts. His longtime service as president of the Virginia Historical Society from 1847 and as a member of the University of Virginia's Board of Visitors from 1834-1849 gave institutional expression to this love of learning.
Rives again became involved in politics during the sectional crisis. He worked during these years to combat the arguments of Virginia secessionists and was a natural choice as one of five representatives from Virginia to the 1861 Peace Conference. On March 8, 1861, he delivered a speech in Richmond on the proceedings of the Conference designed to hold secessionists at bay and propose alternatives to disunion. "Our business," he insisted, "is to reconcile and reunite North and South; and, in the meantime, let Virginia stand, where nature has placed her, with her sister border slave States…'Whom God hath joined together, let no man put asunder.'" With the firing on Ft. Sumter, Rives–like most other white Virginians–lost his scruples over secession and even conceded to serve as a member of the House of Representatives in the Confederate Congress. He survived the Confederacy and died at home at Castle Hill in 1868.
Additional Sources Consulted:
Raymond C. Dingledine, "The Political Career of William C. Rives" (1947)
"William C. Rives," Dictionary of American Biography
James Childs Rives, Reliques of the Rives (Ryves) (1929)
Jon Wakelyn, ed., Southern Pamphlets on Secession (1996)
Russell S.Wingfield, "William Cabell Rives, A Biography" (1915)