The Cabell Family Papers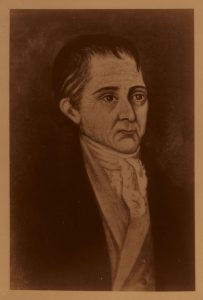 The history of Virginia and that of the Cabell family are inextricably linked; indeed, since about 1726, the Cabells have been one of the Commonwealth's most interesting and influential families. This site offers a broad introduction to the Cabell family and to the extraordinary archival material that Cabells in the eighteenth and nineteenth centuries left behind.
The Cabell Family
Genealogy of the first three generations of Cabells in America, with biographies of several of the more prominent family members.
Cabell Contributions to American History
Cabells have served their nation as soldiers, statesmen, authors,educators, and many things besides.
The Cabells and Their Times
Historical context for the Cabells, including a general introduction to the political, religious, and economic issues of eighteenth- and nineteenth-century Virginia.
Cabells and the University of Virginia
Present at the founding, Cabells have been involved in the life of the University ever since.
DigitalArchive
Selected Cabell manuscripts from the University of Virginia's Special Collections Library, made available online.
Resources
Research aids, including a searchable database with entries for over one thousand manuscript collections relating to the Cabell Family.
Presented by the Albert and Shirley Small Special Collections Library at the University of Virginia