RTW Duke, Sr. (Father)
Richard Thomas Walker Duke, Sr. (1822-1898)
R. T. W. Duke, Sr. was his youngest son's hero and role model. Writing after his father's death, R. T. W. Duke, Jr. recalled of his childhood, "I worshiped him then with a devotion, which neither age nor years ever diminished." (Recollections I. 13) Inspired by such devotion, the younger Duke followed closely in his father and namesake's footsteps–into the University of Virginia, the legal profession, the Democratic Party, and the celebration of the South's Lost Cause.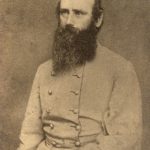 A Charlottesville native, R. T. W. Duke, Sr. left the town of his birth for school at the Virginia Military Institute and for a brief stint as a teacher in Lewisburg, (now West) Virginia. Returning to Charlottesville after his own father's death in 1849, Duke, Sr. went to a year of law school at the University of Virginia before going into practice on his own. Before civil war disrupted his legal and political career, he had built an office at 20 Court House Square; acquired a partner in James D. Jones; and served as one of the city's first alderman, as mayor, and as Commonwealth's Attorney.
Sectional conflict interrupted Duke's prosperous career. For him, as for most white Southerners, the four years of bitter war that followed the April 12, 1861 firing on Fort Sumter became the central event of his life. He raised a regiment of Albemarle citizens and fought for the Confederacy through 1864 as colonel of the 48h Regiment of Virginia Volunteers. After resigning in March 1864 as a result of a conflict with a commanding officer, Duke returned to Charlottesville and was promptly elected Colonel of a newly formed reserve regiment. Officials in Richmond immediately activated the unit, and Duke soldiered on until the closing days of the war, when he and his men surrendered with several hundred other exhausted Confederates at Silas Creek.
Following Appomattox, Duke, Sr. returned to Sunnyside, the farm that he had purchased for his family in 1863. He resumed the practice of law and became even more active in Virginia politics, filling the fifth district's vacated congressional seat in 1870 and serving for two terms. In 1879, he served as a delegate in the Virginia General Assembly from Albemarle.
While the "Colonel" was away in Washington, his son and namesake was studying law at the University of Virginia. R. T. W. Duke, Jr. joined his father's practice in 1874, and the elder renamed his firm Duke & Duke in the 1880s after his eldest son, William, joined as well. In a speech which he delivered upon the laying of the cornerstone for the Loudoun County Courthouse in 1894, R. T. W. Duke, Jr., would later praise his father and his legal integrity. "I am no prouder of my farmer forbears than I am of my father the lawyer," he proclaimed, "at whose feet I learned not only the elements and practice of my noble profession, but every instinct of truth and right, of manliness and honor, and all that can make the man."
Duke died on July 2, 1898 well loved by many in the community and by his growing family. Members of the local chapter of the Sons of Confederate Veterans had named theirs the R. T. W. Duke chapter in his honor, and frequent delegations of children and grandchildren journeyed to Sunnyside to keep him company in his last days.