About this Project
Members of the Cabell Foundation, Inc., acting individually and corporately, have made this project possible. Through their financial support, donations of invaluable materials to the University of Virginia, and kind encouragement, they have enabled the staff of the Digital Services Department of the Albert Small Special Collections Library to give the Cabell family a vigorous Internet presence.
There are pages devoted both to individual family members of the Cabell family and to their specific contributions to Virginia and United States history, as well as pages which provide background information on colonial and antebellum politics, frontier life, nineteenth-century religious practices, slavery, and other topics. Since the family's historic connection with Charlottesville's University of Virginia is so strong, and since the University houses a significant proportion of the family's papers, there is a section devoted to the Cabells' and the University.
Production Credits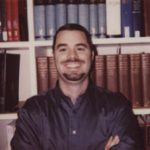 Bradley J. Daigle, Associate Director of Digital Services at Alderman Library, provided administrative oversight and technical expertise for the project.
Charles F. Irons completed his PhD in American History at the University of Virginia in May 2003. A specialist in Southern History and a member of the Cabell Foundation, he generated the interpretative sections of the website and selected the manuscripts and images to be incorporated.
Please contact Digital Services with any questions or concerns about this site at digitalservices@virginia.edu.