Resources
Additional Cabell Resources, at U.Va. and Elsewhere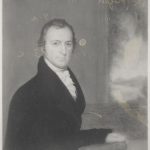 This image, adorned with a twentieth-century inscription
which obscures more than it reveals about the identity
of the subject, is of one of the many Joseph Cabells.
Context suggests that it may be Col. Joseph Cabell, Jr. (1762-1831).
The individuals and institutions that have made this project possible.
Searchable Database of Cabell Family Papers
The sources documenting the family's past are held at the University of Virginia, the Library of Virginia, the Virginia Historical Society, and the College of William and Mary. A single searchable database makes all the materials on the Cabells held in those institutions easily accessible to anyone wishing to explore this vast collection of sources.
The Cabell Family has a growing presence on the Internet; provided here are links to some of the most significant sites.
Full bibliographical information for the books, articles, digital resources, and manuscripts consulted in the preparation of this website.
The story behind Alexander Brown's 1895 labor of love and its 1939 reprint, still the most important source for information on the Cabells of the eighteenth and nineteenth centuries.
Selected documents from the University of Virginia's collection of Cabell manuscripts are available online.