Cabells on the Board of Visitors
Cabell Family Participation, 1819-1866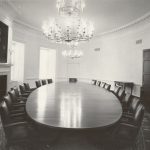 Thomas Jefferson struggled for many years to establish the University of Virginia, and he took especial care to make certain that the "hobby of his old age" would remain in good hands after his departure. Rather than hire a President or some other chief executive to administer the school, Jefferson in good, Republican fashion planned for representatives of the people to guide his University. Accordingly, the Governor appointed a Board of Visitors from among the Commonwealth's leading men to steer the Charlottesville institution into the future. The Board of Visitors continues to exercise final authority in all matters of University governance.
Since Joseph Carrington Cabell, had worked with Jefferson as a Visitor of Central College (the predecessor to the University of Virginia) and had served as the University's champion in the state legislature, he naturally won an appointment to the first formally constituted Board of Visitors in 1819. He joined a remarkably distinguished group, including Thomas Jefferson, James Madison, Chapman Johnson, Robert B. Taylor, James Breckinridge, and his close friend and confidant, John Hartwell Cocke. Cabell would serve on the Board longer than any of these men, until his death in 1856, and would twice serve as the chairman of the Board, the "Rector." His terms ran from 1834-36 and from 1845-56.
In 1828, William C. Rives joined his kinsman on the Board. Rives' mother, Margaret J. Cabell [Rives] was Joseph C. Cabell's first cousin. Rives served from 1828-29, then resigned his position to serve his country as Minister to France. The Governor again called upon his talents upon Rives' return to Virginia, and the statesman once more performed the responsibilities of Visitor from 1834-49. Years later, Rives' youngest brother, Alexander, took a spot on the Board during an exceptionally difficult time for the University, 1865-66. Though he served only briefly, Alexander Rives was also the Rector of the group.
As a part of a restoration of the entire Rotunda to Jefferson's specifications, the University created the Board of Visitors meeting room, shown above, in 1976. The Board currently holds its meetings in this room and sits at the custom-designed table, which seats all 21 members comfortably. The Minutes of the Board of Visitors are replete will references to the Cabell family. Older minutes may be viewed at the Special Collections Library, though they are accessible online for 1965-1996.