University of Virginia
Three Generations of Dukes at Thomas Jefferson's University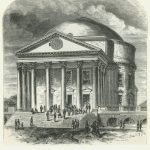 Many generations of Dukes attended the University of Virginia. As was the custom for the Commonwealth's young men at the time, most early matriculates stayed long enough to make important social connections and then left without a degree. William Duke, of Albemarle County but of unknown relation, attended the University's third session, in 1827. R. T. W. Duke, Sr. took classes from 1849-1850, and R. T. W. Duke, Jr. himself enrolled for four years, 1870-1874, without graduating. Judge Duke's older brother, William R. Duke, came back in his thirties for one session, from 1882-1883.
For these early students, the decision not to graduate bore no relationship to their caliber as students. Before concentrating on law during his final two years, for example, R. T. W. Duke, Jr. won the prestigious Thomas Jefferson Prize for the best student essay in 1872. An additional scholarship that he won for editing the best issues of the student literary magazine in 1873 enabled him to attend for an extra year, even though the pecuniary demands of serving as a Congressman made his father unable to pay for another session. Duke excelled also in the classics, and in the study of French, German, and English literature.
R. T. W. Duke, Jr.'s children continued the family tradition of enrollment in the University. John Flavel Slaugher ("Jack") Duke took law courses from 1908-1910 and again 1911-1912 but did not take a degree, and William Eskridge ("Eskridge") Duke graduated from the law school in 1917. While students, Jack and Eskridge Duke joined the same fraternity that their father had participated in decades before, Zeta Psi.
More notably, Judge Duke's two daughters also attended the University, almost a half century before coeducation! Helen appears on the official register of students in the College of Arts and Sciences from 1924-1927, earning a spot on the Dean's List in her last session. Mary also attended the College, but only from 1926-1927.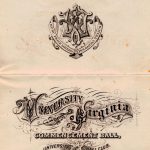 "Colonel" Duke had served from 1853-1865 as Secretary to the Board of Visitors, and his sons continued in that tradition. William R. Duke was a member of the Board of Visitors from 1920-1924, and "the Judge" offered his time and talents in a variety of capacities. From at least 1904 until his death, for example, R.T.W. Duke, Jr. was Secretary and Treasurer of the Miller Fund. The trustees of the Miller Fund distributed scholarships for academic excellence to three students each year.
The stream of invitations to University events continued unabated after Duke's final day as a student in 1874 and did not stop until his death in 1926. Above and at left are samples of those found in the University of Virginia's collection of Duke Family Papers, to the 1876 Commencement and German (Social) Club Ball.