Sunnyside
Boyhood Home
Judge Duke moved to Sunnyside in 1863, at the age of ten. Memories of the home were some of Duke's fondest, as expressed in his Recollections.
"In the early Spring of 1863," he wrote, "my father sold the house in which he lived to Mr Wood—of Ivy, for his daughter Mrs Wm G. Rogers— The price paid was $6000.00 in Confederate money. The "SunnySide" farm was soon after offered at public auction & my father asked the Auctioneer—Hy Benson to buy the place if he could get it for $6000— Failing this he was to invest the money in Confederate Bonds. Fortunately the place was knocked out at $6000—and Father thus became the owner of "SunnySide"—that lovely place I had so admired as a boy, and which was my happy home for twenty one years—and which I trust may remain in the family for generations yet to come." (Recollections I: 101)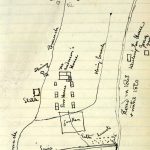 Sunnyside's proximity to the County Poor House (see Duke's map at left), only added to Duke's childhood delight in the property. He wrote of some of the Poor House's most colorful residents, especially Bob Beaver. Mr. Beaver attracted the Duke children's attention, for he "had a mania for collecting light bread & had an old sock in which he kept it until it was old & musty."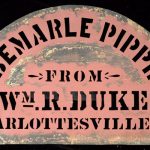 After his marriage to Edith Ridgeway Slaughter in 1884, Duke moved into a spacious home in town, at 616 Park Street. His father lived at Sunnyside until 1898, after which time brother William R. Duke moved in and added a commercial orchard (see sign at right) and vineyard. The property eventually came into the hands of the University of Virginia and is now the site of the University's Law and Business Schools.