Recollections

The "Recollections" of R. T. W. Duke, Jr. consist of five leather-bound record books. Into these volumes, Duke poured his memories of people and events from a lifetime in Charlottesville and Albemarle County.
Duke began to compose his reminisces on November 20, 1899, in order to leave a record of his experiences behind for his five children. He began with the apparent intent to cover the entire span of his life and devoted Volume I to his "early days." The process proved more absorbing and more time-consuming than Duke anticipated, for he had progressed only a few decades–into "manhood's years"–by the time that he made his last entry in January 1926, less than two months before his death.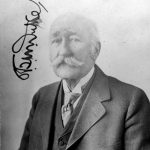 In the four and one-half books that Duke filled, he set down both biographical information and his assessment of the great political events which he witnessed, including the Civil War, Reconstruction, and the Readjustor movement. Working in rough chronological order, he moved from his birth in 1853 until about 1882. The narrative thus ends almost two years before his marriage to Edith Ridgeway Slaughter.
The Magazine of Albemarle County History has, at various times, published portions of Duke's Recollections. Helen R. Duke edited and published portions of the memoirs relating to the Civil War in 1942. More recently, Gayle M. Schulman, who transcribed the entire five volumes for the Albemarle County Historical Society, has annotated excerpts for publication, which appear in the 1994 and 2001 issues of the magazine.
The University of Virginia Library is pleased to make Duke's Recollections available here in two formats, as a text file and as a digital reproduction of the books themselves. Gayle Schulman and the Albemarle County Historical Society provided the text file, which at this time is searchable only through the user's web browser. Absent from Schulman's transcription are the sketches, photographs, and newspaper clippings that Duke inserted into his work; these all appear in the more difficult to navigate digital version.
Recollections (transcription of volumes 1-5)
Volume I – "Recollections of My Early Life"  (digital version)
In Volume I of the Recollections, Duke discusses his childhood memories of family members, genealogical relationships, "servants" (family slaves), his school days, John Brown's raid, Col. R.T.W. Duke's raising of the Albemarle Rifles, Lincoln's election, games and playmates, the Civil War, the Monticello Guard, University of Virginia student volunteers, neighbors and friends, " Sunnyside, " and Sheridan's capture of Charlottesville in March of 1865.
Volume II – "Recollections of My Early Life" (Cont.) (digital version)
Volume II continues Duke's account of the Federal troops' visit to Charlottesville during Sheridan's raid and also discusses the capture of Richmond, Lee's surrender at Appomattox, Col. Duke's return home, the death of Abraham Lincoln, loyalty oaths, Reconstruction, Duke's attendance at the University of Virginia, his professors, membership in Zeta Psi Fraternity, a young romance with Sally Knight, and his first encounter with his future wife, Edith Ridgeway Slaughter.
Volume III – "College Days and After"  (digital version)
Duke records additional stories relating to his college education in Volume III, including accounts of parties and of his receipt of a literary scholarship. He also describes his father's first two terms in Congress, "Edgehill " and the Randolph family, the earliest days of his law career, his membership in the Masons, and the Cold Spring Barbecue Club.
Volume IV – "Manhood's Years" (digital version)
In Volume IV, Duke covers the Cold Spring Barbecue Club in further detail, introduces associates, various women from his past, and friends of the 1870's and the 1890's, and analyzes political events, especially the career of General William Mahone. He includes additional stories from the Civil War as well.
Volume V – "Manhood's Years" (Cont.)  (digital version)
Volume V documents the failure of the Charlottesville National Bank, more about his early law career, a Zeta Psi convention, and the assassination of President Garfield. Severe illness prevented Duke from completing this volume.