Children
Children Of R. T. W. Duke, Jr. and Edith Ridgeway Slaughter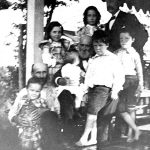 Photograph, c. 1896, of the Duke children and some close relatives. As indicated on the reverse of the image, those on the back row may be identified as: Mary Willoughby Duke Slaughter (cousin), RTW Duke, Jr.; Center row: Mary Duke, RTW Duke, Sr., J. F. S. (Jack) Duke, R. T. W. (Walker) Duke, III, Helen R. Duke in R. T. W. Duke, Sr's lap; Bottom: William R. Duke (R. T. W. Duke, Jr.'s older brother) holding William Eskridge Duke. [GENEALOGY]
In 1884, R. T. W. Duke, Jr. and Edith Ridgeway Slaughter married in their hometown of Charlottesville. They promptly moved to a fashionable residence on Park Street and began to build a family together. Their eldest child, Mary, arrived in 1885. Though their sixth and final child, Edwin Ellicott Duke (b. 1899) died in infancy, a total of five energetic young Dukes made the Park Street home a bustling and happy one. When he began writing his Recollections, only shortly before Edwin's premature death in 1900, Duke stated his intention to write for these little ones: "It is my purpose, in this book, to jot down the recollections of my life, as I can recall them. There will be little to interest any one but my children and possibly their children."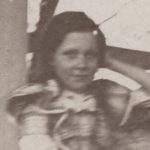 Mary Willoughby Duke (1885-1966), the eldest, exemplified the expanding possibilities available to women in the early twentieth century. She was one of the first female students at the University of Virginia (1926) and an active social worker though organizations such as the Archdeaconry of Southwest Virginia and the American Red Cross. After the death of her father in 1926, she began to assist her brother, Eskridge, at the family law practice. Never married, Mary proved an able leader and administrator.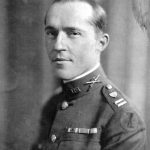 His father's namesake, the dashing Richard Thomas Walker ("Walker") Duke, III (1887-1960) worked out west as a cowboy and printer after a dismal semester at the Virginia Polytechnic Institute in 1904. When World War I started, Walker enlisted and found his calling as a military man. He met his first wife, Myrtle Judson, while working at the University of Chicago's Law Library and married before shipping out in1917. Walker chose to remain in the Army following the war and as a result was the only Duke child not to attend the University of Virginia.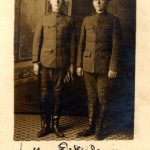 John Flavel Slaughter ("Jack") Duke (1889-1933) and his younger brother, William Eskridge Duke ("Eskridge") (1893-1959) joined their older sibling in the Army during World War I, where they met at a training camp in Texas for this photograph. Eskridge had enlisted in the Navy years earlier, but switched to the Army in order to join the American Expeditionary Forces. Both attended law school at the University of Virginia, where they joined the Beta Chapter of Zeta Psi, as their father had before them. Jack went on to a career in business, while Eskridge joined his father's law practice soon after his graduation in 1917. Eskridge remained with the firm until its closure in 1955.
Even before her older sister matriculated, Helen Risdon Duke (1895-1984) was a pioneer female student at the University of Virginia. She excelled in the College of Arts and Sciences and made Dean's List in 1927 on her way to earning a bachelor's degree. After graduation, she worked as a librarian in Norfolk and New York City before returning to the family home in Charlottesville. Helen's letters and diaries make up an important component of the Duke Family Papers at the University of Virginia.
R. T. W. Duke, Jr. eulogized his son Edwin Ellicott Duke (1899-1900) in the earliest pages of the Recollections. "On this same table, in my parlour on Oct. 31st & Nov 1st 1900, lay my dear little boy Edwin Ellicott, my little angel boy, embowered in flowers, the sweetest flower, that ever bloomed on earth, to flourish and fade not forever, in heaven." (I. 2).