Cabells in the United States Congress
United States House of Representatives or United States Senate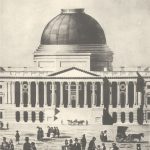 At least ten Cabells or near relations have served in the United States Congress:
Samuel Jordan Cabell (1756-1818). Samuel Jordan Cabell came of age in time to contribute to the patriot cause. He left the College of William and Mary to enter the Revolutionary Army and gained appointment as Captain of Amherst County Volunteers in 1776. Before his 1780 capture during the fall of Charleston, South Carolina, Cabell had already gained promotion to lieutenant colonel. After the war, he returned home and offered his service in the political arena, serving as a member of the Virginia House of Delegates from 1785-1792; a member of the ratification convention in 1788; and as a Republican Representative to the Fourth and to the three succeeding Congresses (March 4, 1795-March 3, 1803). He retired voluntarily in 1802 to his estate, "Soldiers' Joy," near New Market, Virginia.
John Breckinridge (1760-1806). In 1785, John Breckinridge joined the Cabell family by marrying Mary Hopkins Cabell, the daughter of Col. Joseph Cabell. Although elected as a Democratic-Republican from Virginia for the Third Congress, he resigned in 1792 and moved to Kentucky. After several years of service in the state government, Breckinridge won election in 1800 to the United States Senate. He served from March 4, 1801 until August 7, 1805, when Thomas Jefferson offered him the position of Attorney General. He did not serve in this capacity long, however, and died at "Cabell's Dale," near Lexington, Kentucky in December 1806.
William Cabell Rives (1793-1868). A graduate of the College and William and Mary (1809), William Cabell Rives began his political career as a lawyer in Albemarle County. Following his service in the Virginia House of Delegates, 1817-1820, 1822-1823, he entered service on a national level. He was elected a Congressman to the Eighteenth and to the three succeeding Congresses and served from March 4, 1823 until his resignation in 1829 to accept a diplomatic post. In that year, President Andrew Jackson appointed him Minister to France, a position he held until September 1832. Upon his return to the United States, he was elected as a Jacksonian to the Senate to fill a vacancy caused by the resignation of Littleton W. Tazewell. After just over a year of service (December 10, 1832-February 22, 1834), he resigned rather than obey the Virginia General Assembly's instructions to fight Jackson's removal of funds from the Bank of the United States. When Sen. John Tyler resigned, Virginians again called on Rives to fill out the term, from March 4, 1836 to March 3, 1839. He successfully ran for reelection as a Whig, but only after almost two years of political wrangling in the Virginia General Assembly, and he took office on January 18, 1841, for the term beginning March 4, 1839 and concluding March 3, 1845. His experience as chairman of the Committee on Foreign Relations during this final tour in the Senate helped earn him reappointment as Minister to France from July 20, 1849 until May 1853. He again became involved during the sectional crisis and served first as a member of the 1861 Peace Conference and then as a member of the House of Representatives in the Confederate Congress.
Thomas Stanhope Flournoy (1811-1883). The son of Ann Carrington Cabell and John James Flournoy, Thomas Stanhope Flournoy was a Whig in a Democratic area. Born in Prince Edward County and educated at Hampden-Sydney, he practiced law in Halifax, Virginia. From 1847-1849, he served as a Whig in the Thirtieth Congress and was unsuccessful in two subsequent runs for reelection. After serving in the Civil War, Flournoy switched to the Democratic Party, as did most Confederate veterans, but did not hold any major elective office. He did, in 1876 attend the Democratic National Convention as a delegate. He died at his home in Halifax County, Va., March 12, 1883.
Edward Carrington Cabell (1816-1891). Edward Carrington Cabell was born and educated in Virginia, though he built his political career in Florida and passed his twilight years in Missouri. He was born in Richmond and attended school in both Lexington (Washington College and Reynolds' Classical Academy) and Charlottesville (University of Virginia). He moved to a farm near Tallahassee in 1837 and served there as delegate to the Territorial convention to form a State constitution in 1838. He subsequently returned to Virginia and studied law, gaining admittance to the bar in 1840. He returned to Florida, which had by then gained its statehood, and served for several months in the Twenty-ninth Congress (October 6, 1845 to January 24, 1846). William H. Brockenbrough, who had contested the election, then succeeded him. Cabell returned as a Whig to the Thirtieth and to the two succeeding Congresses (March 4, 1847-March 3, 1853) before losing his bid for reelection. He never again served on the national level but was a member of the Missouri State Senate from 1878 until 1882.
John Cabell Breckinridge (1821-1875). The great-grandson of Col. Joseph Cabell, John Cabell Breckinridge was born in Kentucky at "Cabell's Dale." After leaving the state for a brief stint at the College of New Jersey and a short sojourn in Iowa, he returned to serve as a major in the Kentucky Volunteers during the Mexican War and as a state legislator in 1849. His father, Joseph Cabell Breckinridge, had set a precedent for involvement in state politics by serving as Kentucky's Secretary of State from 1820 until his untimely death due to an epidemic in 1823. John C. Breckinridge was elected as a Democrat to the US House of Representatives in 1850, and served two terms (March 4, 1851-March 3, 1855). He turned down a diplomatic position under Franklin Pierce and joined James Buchanan on the Democratic ticket in 1856. He served as Vice President from 1857-1861 and ran in 1860 for President as a States-Rights Democrat. During the Civil War, Breckinridge served first as a general in the Confederate Army and later, Feb-April 1865, as Secretary of War in the Confederate Cabinet.
George Craghead Cabell (1836-1906). Born in Danville, Virginia, George Craghead Cabell left his hometown for three extended periods: to attend the University of Virginia, from which law school he graduated in 1857; to participate in the Civil War as a colonel in the Confederate Army; and to serve as its representative in Washington, D. C. after Reconstruction. He practiced law and edited the Danville's Democratic Appeal before the Civil War, and was elected the city's Commonwealth Attorney in September 1858. As Reconstruction drew to a close, he was elected as a Democrat to the Forty-fourth and five succeeding Congresses (March 4, 1875-March 3, 1887). While in the House during his last two terms, he was Chairman of the Committee on Railways and Canals. After electoral defeat in 1886, he returned again to Danville, where he is buried.
Clifton Rodes Breckinridge (1846-1932). The son of John Cabell Breckinridge, Clifton Rodes Breckinridge came of age in time to serve in the Confederate Navy. After the War, he attended Washington College in Lexington, Virginia, while Robert E. Lee was president of that institution. He then moved to Arkansas and won a seat in the House in 1882. He served three terms, from March 4, 1883-March 3, 1889, before a contested election almost cost him his fourth term. His challenger, John M. Clayton, died before he could take office, however, and Breckinridge was elected to fill out the term. He served for the rest of the Fifty-First Congress and was elected to two additional terms (through August 14, 1894). Grover Cleveland appointed him Minister to Russia, a post which he filled from 1894-1897, before returning to Arkansas. He lived and worked there until 1925, when he returned to Kentucky to live out his years.
William Cabell Bruce (1860-1946). A Nelson County, Va. native, William Cabell Bruce built his very successful career in Maryland. He attended both Norwood High School and College in Nelson and the University of Virginia before leaving the state to complete his legal training at the University of Maryland. After passing the bar, Bruce maintained a practice in Baltimore, served the state government in various capacities, and published books on American History. His 1917 biography of Benjamin Franklin won the Pulitzer Prize. He ran unsuccessfully for the Senate in 1916, but won a seat in 1922. He served as a Democrat from March 4, 1923 to March 3, 1929. After failing to gain reelection, he returned to his practice and his writing.
Earle Cabell (1906 – 1975). Before his involvement in politics, Earle Cabell, a Texas native, established with his brothers a chain of ice cream parlor/convenience stores, Cabells, Inc. He was elected mayor of Dallas in May 1961 and reelected in 1963. He therefore served as that city's chief executive during the assassination of then President John F. Kennedy. On February 3, 1964, he resigned his office to be a candidate for Congress. He won election as a Democrat to the Eighty-ninth and to the three succeeding Congresses (January 3, 1965-January 3, 1973). After redistricting, he was an unsuccessful candidate for reelection in 1972 and retired from politics.
Additional Sources Consulted:
Biographical Dictionary of the American Congress, 1774-1996 (1996)