Timeline
Timeline of Significant Events in the Life of R. T. W. Duke, Jr.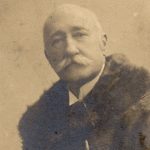 1853 – Birth to R. T. W. Duke, Sr. and Elizabeth Scott Eskridge Duke
1859 – Father forms the Albemarle Rifles, a volunteer militia company, after John Brown's raid on Harper's Ferry.
1861-65 – Civil War
1870-1874 – Enrolled at the University of Virginia
1884 – Marriage to Edith Ridgeway Slaughter
1885 – Birth of first child, Mary Willoughby Duke
1888-1901 – Judge of the Corporation Court of Charlottesville
1896 – Death of mother, Elizabeth Scott Eskridge Duke
1897-1899 – Grand Master of the Virginia Masons–the Grand Lodge of Virginia
1898 – Death of father, R. T. W. Duke, Sr.
1900 – Premature death of sixth child, Edwin Ellicott Duke (b. 1899)
1921 – Death of first wife, Edith Ridgeway Slaughter
1923 – Second marriage, to Mary Richardson Slaughter (sister-in-law of Edith Ridgeway Slaughter)
1926 – Death of Richard Thomas Walker Duke, Jr.