About this Project
Members of the Duke family have long supported the University of Virginia Library, particularly through donations of historically valuable material to Special Collections. In this project, made possible through the continued generosity of the Duke family, members of the Digital Services Department of the Albert Small Special Collections Library (SCDS) have pursued two goals. First, we have attempted to make a portion of the Duke materials available to a wider audience by posting them online. Second, we have attempted to provide intellectual and cultural context for those materials, situating the Dukes in the world in which they lived and highlighting those issues important to them.
In the selection of documents and images to scan and present on the internet, we have prioritized the works of R. T. W. Duke, Jr., particularly his Recollections and personal diaries. As a complement to these, we have added a significant portion of the photographs and several representative documents from the collection.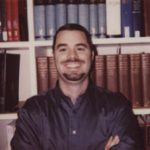 Bradley J. Daigle, Associate Director of Digital Services
at Alderman Library, provided administrative oversight and
technical expertise for the project.
Charles F. Irons completed his PhD in American History
at the University of Virginia in May 2003. A specialist in Southern
History, he generated the interpretative sections of the website
and selected the images to be incorporated.
[Photo not available.] Laura Schmoyer, a 2003 graduate of the University of Virginia,
scanned the vast bulk of the images available on the website, including
all of the diaries and a significant portion of the Recollections.
Please contact Digital Services with any questions or concerns about this site at digitalservices@virginia.edu.