Nelson and Amherst Counties
and the Cabell Political Dynasty
The region surrounding the first Cabell homeplace in Nelson County always remained the seat of the family's power. Between 1776 and 1795, when Nelson was still a part of Amherst County, there were at least two Cabells from central Virginia in the state legislature every year save one. In some years, there were more than two. In the General Assembly's session of October 15, 1787-January 8, 1788, for example, during which Virginians first heard of the proposal to replace the Articles of Confederation with a federal Constitution, William and Samuel Jordan Cabell were serving as Delegates from Amherst, Joseph Cabell from Buckingham, and Nicholas Cabell in the upper house as Senator from Buckingham, Albemarle, Amherst, and Fluvanna.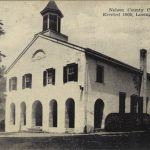 In the Nelson County Courthouse above (built in 1809), in Williamsburg, in Richmond, and in the federal capital in Washington, D.C., Cabells upheld the family tradition of public service by representing their neighbors. At least fifteen Cabells from the Nelson County area went to the General Assembly:
Cabell, Edward A.
Cabell, Frederick M.
Cabell, Joseph
Cabell, Joseph C.
Cabell, Nicholas
Cabell, Paul C.
Cabell, Samuel Jordan
Cabell, William, Jr.
Cabell, William (Sr.)
Cabell, William H.
Cabell, William M.
Hare, William B.
Megginson, Joseph Cabell
Rives, Robert, Jr.
Rives, William C.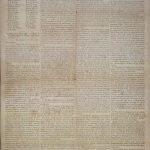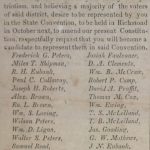 Their neighbors warmly encouraged the Cabells to participate in politics. At right is an 1850 petition in which voters from the district encompassing Goochand, Albemarle, Amherst, Nelson, and Fluvanna Counties urged Joseph C. Cabell to come out of retirement in order to serve as their representative to the Constitutional Convention of 1850.
*Nelson County was carved from Amherst in 1808. Click here to learn more about county boundaries.