The Lawn
Thomas Jefferson's "Academical Village"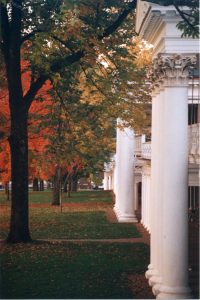 When Thomas Jefferson designed the Grounds of the University of Virginia, he attempted to create an environment in which students could learn both inside and outside of the classroom. Accordingly, he interspersed student apartments among faculty homes and made the buildings themselves architectural textbooks–stylized copies of Greek and Roman originals. Jefferson has won wide renown for his "Academical Village," the term that he himself coined to describe the collection of low-slung apartments and classrooms nestled around a central "Lawn." America's architects named the complex the most outstanding architectural achievement in the nation's history in 1976, and a United Nations committee designated the buildings a world historical site in 1992. Though the prime mover behind the construction for the University, Jefferson did alter his original plans upon the intervention of several other individuals, including both professionals like Benjamin Latrobe and concerned members of the Board of Visitors, John Hartwell Cocke and Joseph Carrington Cabell.
Cabell compelled Jefferson to alter his plans for the University on at least two specific occasions in 1819. The "Sage of Monticello" originally planned for four parallel rows of student dormitories, with the outer rows–known as the "Range"–facing in towards the central square. Cabell successfully convinced Jefferson to shift the orientation of this outer layer of dormitories, so that they faced out away from the inner rows. That way, "Range" residents did not have to stare out their front doors at the backs of the dormitories and professors' homes along the "Lawn". Furthermore, Cabell persuaded the former President to make the gardens that separated the Lawn from the Range adjacent to the "Pavilions," or professors' homes. Jefferson agreed that this alteration brought more unity to the space.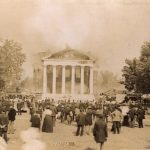 Crowds watch as the Rotunda burns in 1895 (left).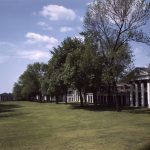 As part of the rebuilding project, the firm of McKim, Mead, and White added Cabell Hall on the South end of the Lawn, barely visible from the steps of the Rotunda (right).
Completed in 1826, after the arrival of the first students in 1825, the first buildings at the University proved inadequate to hold a burgeoning student population. In need of both dormitories and instructional space, the Visitors contracted in 1853 to add more classrooms through an addition to the Rotunda, the library and the centerpiece of the original Academical Village. This decision proved tragic, for on October 27, 1895 a fire started in the "Annex," as the addition was known, and burned the Rotunda to the ground. Devastated by the loss, the University's alumni, faculty, and friends rallied to the institution and commissioned the New York firm of McKim, Mead, and White to rebuild the Rotunda. During the1895-1898 building campaign, the Visitors decided not to replace the Annex, but instead to install new academic buildings opposite the restored Rotunda, at the south end of the Lawn. The centerpiece of this south Lawn project, appropriately, took the name Cabell Hall upon its completion in 1898.
Additional Sources Consulted:
Frank E. Grizzard, "Documentary History of the Construction of the Buildings at the University" (1996)
Richard Guy Wilson, The Academical Village (1993)