The Rives Family: Descendants of Margaret J. Cabell and Robert Rives
The fruitful union of Margaret J. Cabell and Robert Rives produced several leading statesmen, including William C. Rives, a Virginia Whig and, for a time, the most prominent political figure in the Commonwealth. While still in his teenage years, Robert Rives had served in the Revolutionary War and was present at Yorktown. He afterwards settled in Albemarle County where he wed Margaret Cabell in 1790 and became a leading planter.
Margaret J. Cabell (1770-1815) and Robert Rives (1764-1845) had ten children together, within the space of only sixteen years. Amazingly, nine of the ten lived to adulthood and firmly established the Rives branch of the Cabell family tree. Of the Rives children, four–Robert, Alexander, George, and William–each served in the Virginia General Assembly, and young men from the family attended the University of Virginia for generations. William went on to the most spectacular political career of all, marked by distinguished service as Ambassador to France, US Senator, and outspoken unionist. Descendants remained proud of their links to the Cabell family; Lucy Shands Rives' grandson, Alexander Brown, completed the monumental The Cabells and Their Kin in 1895.
Landon Cabell Rives (1790-1870)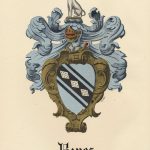 Margaret Jordan Rives (1792-1862)
William Cabell Rives (1793-1868)
Lucy Shands Rives (1794-1872)
Paulina Cabell Rives (1796-1858)
Robert Rives, Jr. (1798-1869)
Henry Rives (1799-1833)
James B. Rives (1801-1816)
George Rives (1802-1874)
Elizabeth Rives (1803-1804)
Alexander Rives (1806-1885)
*Link to descendants of William C. Rives.
Additional Source Consulted:
James Childs Rives, Reliques of the Rives (Ryves) (1929)