Sons
Military Weddings
All three Duke boys, Walker, Jack, and Eskridge, enlisted in the military during World War I. Their patriotism did not stand in the way of their romanticism, and two of the three brothers were married by war's end.
According to contemporary news reports, Myrtle Judson helped R. T. W. Duke, III make the decision to enlist. The two met and began their courtship at the University of Chicago, where both worked in the library system. When America entered the war in 1917, Miss Judson asked her beau, "R.T., why aren't you a lieutenant or a captain or something?" "If you were," she went on," I'd give anything to marry you." Within three months, Duke had secured a commission and the two wed. Duke's eagerness to gain his lieutenant's bars was evident in a note postmarked 10 October 1917 which he mailed home–"The commission has passed the commandant now & it is up to the War Department," he informed his father.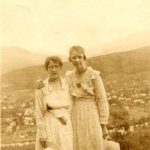 Walker stayed in the Army long after the conflict ended in 1919, which necessitated periods of separation from his audacious bride. Myrtle Duke is shown here in 1919 with an unidentified friend (perhaps Kathleen?).